| | |
| --- | --- |
| | <![if !vml]><![endif]> |
| | A.B.N. 61374397926 |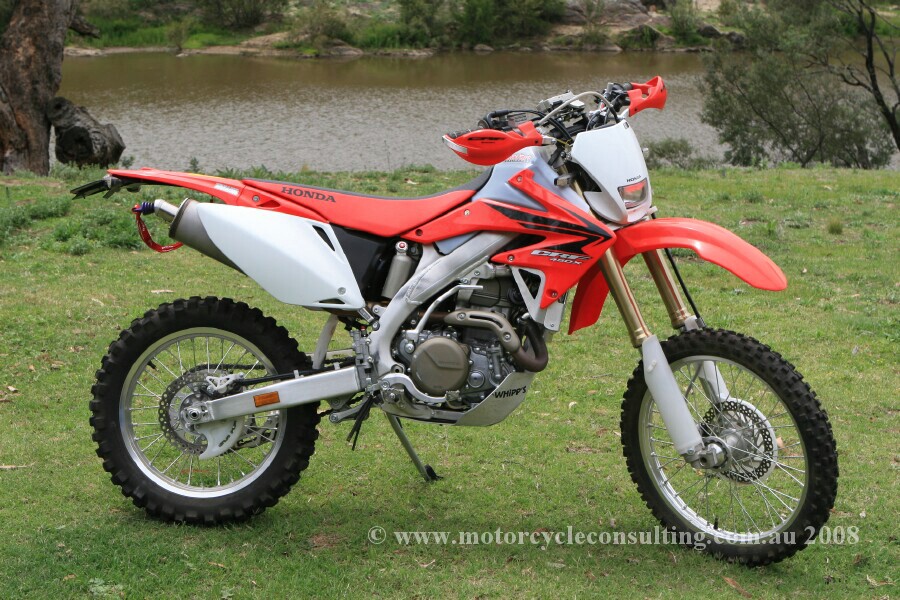 This is how it looks now. A few very nice additions to make trail riding that much more enjoyable.
December 2008
So far the past six months has not gone entirely to plan, and as usual, dirt bike riding was put aside for more important things. As such, I have only managed around 16hrs and 600km on the bike. Hopefully next year will see a lot more hours spent riding the bike.
As you could imagine, there is little to report so far with the bike not seeing a lot of trail time. The only problems I have had are the rear shock protector wearing through, the horn bracket breaking off and the tail light wiring coming into contact with the rear wheel. The shock protector was due to a mousse tube being fitted to the rear tyre and at high speed, it grows enough to come in contact with the plastic. Now that the chain has settled and the wheel is adjusted back further, the problem has gone away. The horn bracket has fatigued and broken, but not a real issue. The only thing I would like to see is some sort of support for the rear guard. Without fitting a "sticker" number plate, the ADR gear at the rear is too heavy. Over big erosion mounds, the guard flexes down far enough for the metal bracket protecting the wiring, to come in contact with the rear tyre. Subsequently, I have had to straighten it a few times.
Servicing wise, the bike has had several engine oil and gearbox oil changes. The oil filter is changed each time as well. I have bought a second air filter and cage to be able to swap air filters quickly and easily when out on a two day ride. I have checked the valve clearance twice and have not had to replace a shim.
As far as the after market accessories are concerned, again there is not much to report. They all work perfectly, and make time out in the bush, that much more enjoyable.
Wishing everyone all the best for 2009. Hope to see you out on the trail.
June 2009
Well another six months as past and as usual, not enough dirt bike riding. A heavy schedule traveling to events has eaten into my weekends, but if I can't ride a motorcycle, at least I can photograph one.
The CRF now has 31hrs and 1150km on it. I have been using my GPS as a speedo since the original one has developed a bit of an issue with figures?
I have checked the valve clearance twice this year and happy to report no shim changes needed. I have not been riding in extremely dusty areas and regularly change the air filter, so this helps. Several engine and gear box oil changes have taken place at regular intervals.
A little more crash damage has appeared on the bike after sliding backwards off a rocky embankment. The muffler has some deep scratches and a dent, along with some side cover scratches. The radiator guards and foot pegs held up well, although my knee was put out of action for a few weeks! Knee braces are a blessing....Both rear blinkers have departed mid ride, despite surviving the crash. It is a pity the ADR equipment fitted in Australia is not Japanese quality. Having done a few rides mid winter, I am glad my heated grips are still working. Just the thing for the more open trails.
October 2009
A few more hours have been spent on the bike, which now has 40hrs and 1535km on it. A recent ride to Stockton beach gave it a pretty good workout, although I am sure all that sand is not the best way to look after your pride and joy. The deep sand on the beach and up in the dunes has the engine working much harder than normal and you can feel the extra heat. That being said, it was a heap of fun and I am going back!
Service work has still been pretty much to a minimum and all is going well. Still no shim changes to report, and regular oil changes keeps the engine clean. Fork oil was changed when I needed to do an article for ADB Magazine. The seals were not leaking, but it was a good opportunity to freshen up the damper and fork outer oil.
Luckily no more crash damage to report, but again the ADR equipment let me down. After a ride in the Southern Highlands, It was off to the RTA to buy a new number plate. The plastic holder had broken and taken the number plate with it. I fitted another one but did not use the metal brace and alloy cover, to reduce weight. The guard just does not support the weight and this contributes to the fatigue of the blinkers and number plate holder. I have done a few rides since the modification and everything is still in place and working.
The Stockton beach ride was hard on the engine and it also claimed my chain guard. Yes I know most guys ditch this as soon as you buy the bike, but I was keen to see how long it would last. Well, about 1500km is the answer. It actually surprised me that it lasted this long! I now have to re fit the chain slider with new washers. I will put a bit of silicon under it, so it sticks to the swing arm and reduces the wear on the alloy.
Again there is not much to report on my after market parts. All of them are still as good as the day they were fitted. The radiator guards had to have one slight touch up after an altercation with a pine tree, but they did a great job of protecting the radiators. My bash plate has a few war wounds but nothing serious. The pivot pegs are great and work a treat. I really like the pivoting action and definitely recommend them.
March 2010
Night riding is my new favourite past time and a great way to fit more riding into a busy schedule. A few trips to Belangalo State forest have been a lot of fun. It is about the closest riding area to my home, and one I can easily reach on a Friday afternoon. That still gives us time to set up, do a 30-50km ride with enough time to sample some beers before climbing into the swag. If you want a few tips on how to set up for a night ride, check out my Moto Manual section in Dirt Action #140 January 2011.
Still not much to report on with the bike. All has been well, with regular oil changes and even more frequent air filter changes. No doubt my air filter maintenance has contributed to my lack of shim replacements! With 50hrs on the bike, the valves have been checked 4 times, and have always been within specification.
The only damage is the left hand rear blinker has fallen off, yet again... and no I did not crash! A new front tyre has been fitted, using my old mousse tube, but I have had to cut a piece and add to the mousse to get a little more life out of it. Next time it will need replacing or a new Heavy Duty Tube.
October 2010
I now have just on 68hrs on the engine (yes I know, poor effort, but too much work to do!) and that equates to 2551km. Nothing more to report as far as accessories go, they are all still there, and working well. The last big ride I did was to Araluen and back, starting at Snowball. An awesome ride that rises and falls from over 1600m down to about 150m. I lost count at about 750 erosion jumps! This last ride was with Big Al, and some shots from the ride are in the above gallery. The time before that, I rode back from Araluen to Snowball with Paul Sinderberry, at night in the rain and fog! That was one challenging ride!
Service work has been pretty standard again, with the exception of the left hand fork seal leaking. New seals and wipers were fitted, and while the fork was apart, I found the culprit! A sharp rock must have ricocheted off the bash plate and back onto the rear of the fork slider. A very small but sharp piece of metal had cut through the seal. A light oil stone brought the fork slider back to smooth and the forks have been sweet ever since.