| | |
| --- | --- |
| | <![if !vml]><![endif]> |
| | A.B.N. 61374397926 |
<![if !vml]>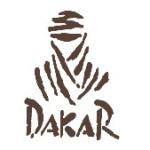 <![endif]>
Firstly I would like to thank those people who helped make my Dakar Adventure a reality. Their kind generosity, words of advice or loving support made one of life's toughest challenges that much easier. Although there are many people to thank, special thanks goes to the following.
Jaime Augusto Zobel de Ayala
Tracy, Fred and Natasha Dayes
Neil White
Carl Fuller
Sydney City Motorcycles
Max Kienle
Andrew Coaker
Allan Wall
Kelly Enduro Products
My Mum & Dad
And of course my partner Helen. Without her love and support, this Dakar Adventure would not have been a reality.
I was warned before the rally by people in the know, that three bikes was too much work in such a tough event. This was echoed every time I spoke to anyone during the rally. Everyone else I met only worked on one or two bikes. However there was not much I could do about it. I was there to do my best for each rider. There was also a language barrier since one rider was French and one was Italian. 245 bikes started the rally, only 133 made it to Dakar. I was very proud to witness each one of my riders reaching the finishing podium at Lac Rose in Dakar.
There are many stories to tell about the Rally. I will post some more in the near future. In the mean time, here is some photos of Christophe and myself on the finishers podium.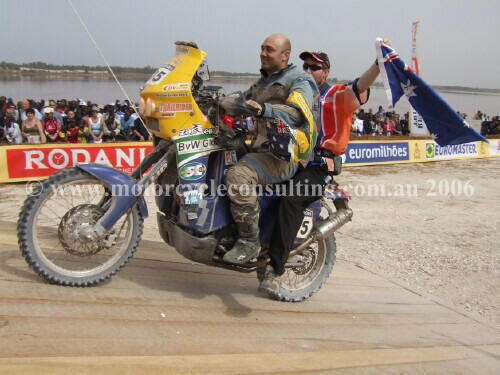 Photos Courtesy of Thierry Arnout.
CBV Racing
2007 was Christophe's second attempt at the infamous Dakar Rally. He competed last year, and unfortunately found out the hard way, just how grueling this event can be. He has since competed in the Las Pampas rally in Chile and recently finished 4th in the marathon class of the Sertoes Rally in Brazil. Completing the 2007 Dakar Rally was another milestone for Christophe and his racing career.
To find out more information on Christophe and his world Rally dream, visit www.cbvglobal.com
To view photos from the 2006 Dakar Rally, click HERE
To view a PDF file of the Las Pampas rally, click HERE
To view a PDF file of Christophe's 2006 Press release, click HERE.
To view photos from a wet and rainy training day at Stockton Beach last year, click HERE.