| | |
| --- | --- |
| | <![if !vml]><![endif]> |
| | A.B.N. 61374397926 |
The Andy Caldecott Memorial Trust Gala Dinner & Fundraising Auction nights were organized by KTM Australia. The trust has been established to provide income and support to Tracey Caldecott and her children.
The nights were held in Adelaide (Monday 3rd April 2006), Brisbane (Tuesday 4th April 2006), Sydney (Wednesday 5th April 2006), and Melbourne (Thursday 6th April 2006).
Over 50 items went up for auction, with names such as Casey Stoner, Valentio Rossi, and Mike Tysen being amongst the memorabilia. The night was a huge success with over $50,000 being raised in Sydney alone. Many thanks to the people and organizations that donated the memorabilia, as well as a huge thank you to the people who dug deep into their pockets to support such a worth cause.
I was able to contribute two framed photographs of Andy that I had taken at this years Dakar Rally to be auctioned. I would like to thank Paxtons Photographics in Parramatta for providing the two photo enlargements. I would also like to thank John from Golden Years Collectables in Parramatta for providing the frames and mounting the photos in such short notice. The framed photographs added $4750.00 to the trust, so thanks to everyone involved.
My good friend Allan Wall commissioned a drawing to be done of Andy, taken off a photo I took in Barcelona at the start of the 2005 Dakar Rally. It was one of the favorites of the auction and brought the trust fund up by almost $3000.00
Mark & Simone from MSC have a special run of steering dampeners up for sale for $1000.00 each. They are in Repsol Colours, have a picture of Andy on them and only 50 are available to the public. All proceeds go to the trust fund, so if you are after something special, then give them a call on 02 43741655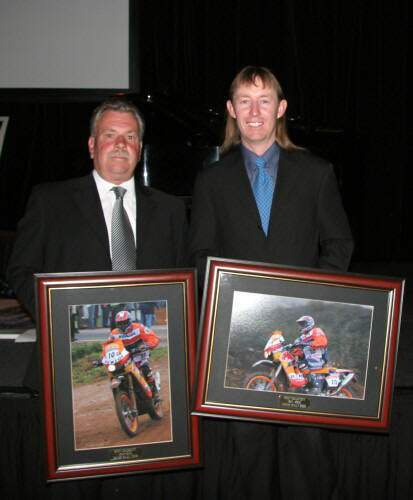 Allan Wall & Max Sullivan Presenting Items For Auction Carl Fuller & Max Sullivan
Photos: Helen Huang
For anyone wishing to contribute to the trust fund, the details as passed on by KTM Australia are below.
Andy Caldecott Memorial Trust
An Andy Caldecott Memorial Trust has been set up as a benefit fund in support of his wife Tracey and daughter Caitlin Caldecott.
Andy Caldecott, a four time Australian Safari winner lost his life last week during the 9th stage of the 2006 Dakar Rally, the toughest rally in the world.
As Australia mourns his loss the motorcycle fraternity pay their condolences to those suffering the most - his family.
People wishing to donate funds to the Andy Caldecott Memorial Trust may lodge a deposit to the following account. All donations no matter how small will be heartfelt by his thankful family.
Account Name: The Andy Caldecott Memorial Trust
Bank: ANZ
Branch: Keith
BSB: 015-595
Account: 4955-98859
All who knew Andy Caldecott loved him. A great Australian rally legend who will be sadly missed by all, as we mourn in the loss of a heroic man.
KTM send their love and thoughts to the Caldecott family and request the industry and media respect the Caldecott family's wishes to be left in peace to mourn the loss of husband, father, son, brother and friend.
Rest in Peace Andy, our memories will never fade mate.